Hello everyone,
I hope you are well.
First of all. I would like to start by saying that I am so sorry for what happened yesterday in Las Vegas. I cannot even imagine the pain those families must be feeling. Your son, daughter, mother, father or someone else you love goes to a concert where they feel safe and they never come home. This is so sad and I can only imagine the heartache. I am sorry for all of you American friends in general, who no longer feel safe in your country. This is a tragedy and we should all be in mourning. My heart goes out to you. I am so sorry this is happening in your country.
Secondly, I need to say that one of my dearest friend is going through something very difficult and that we would appreciate some prayers and thoughts. Her uncle died in the most painful circumstances, because of a stupid accident that should never have happened. Life can be so hard and sad. Please pray for his soul and for the strength of those who lost him, especially his mother who is going through one of the worst pains one can feel. I can only imagine how desperate she must feel. For my friend, who I love so much, I send so much love and my own prayers and positive thoughts. I hope you read this. I love you so much. You can go through anything. You are strong. We're here for you.
---
On another note, I thought I would do a little update, for those who have the time and patience to read it.
I am still in love with my job. I love the kids, even when they are difficult. They say they love me too, which is the best I can ask for. When kids hate you, they really hate you and have no shame in making your life a living hell while you are trying to work. I am blessed with patience and I think that is one of the things they like about me. I listen to them, I answer their questions, I am funny and approachable. I need to be firm and focus on discipline sometimes, which I honestly hate because I don't like to be mean and hard on my not so little guys and girls. I love my colleagues and the work I do. I love the hours, which allow me to work on other things and still have plenty of free time. I am blessed with a good salary for the hours I work, which is more than I could ask for. I cannot describe the feeling of getting my first paycheck after 6 months of being home. I feel like myself again, finally.
My online work is going really well. I have regular clients for whom I do book promotions, write articles and other general assistant tasks, which is something I love and am good at. You know how much I love organization, which is the one of my main tasks for such job. I also make extra money which is so helpful and rewarding for me. I have never had less than two, three or four jobs. I love the different planning and schedules and multitasking side of things. I like to be busy with different projects and to feel productive. I am very happy and fulfilled when it comes to my professional life.
---
October is my birthday month. I usually love my birthday but I 'm honestly not feeling it this year, for several reasons that are not worth mentioning. Last year my friends threw me a surprise birthday party.
The year before, when I turned 24, I had a big party at home, with about 20 people, friends and family.
When I turned 23, I had a pretty big party as well.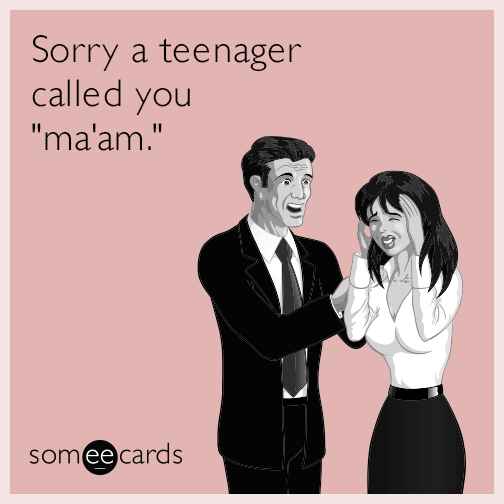 For 22, we ate at a restaurant and my friends decided to sing happy birthday after I demanded they wouldn't. Well, the restaurant was absolutely full and I had to endure about 50 people singing happy birthday while I was blushing like I had never had before and had no idea where to look. That was interesting.
For 21, I had a small dinner with my best friends at a shopping mall. My mom and sister came by to deliver some cake. Pretty simple.
For 20, I was very sad. I had just been accepted into college, had pushed away most of my friends (after a very difficult couple of years – screw 2010 and 2011) and was working a job I absolutely hated and that made me feel like a slave. My best friends surprised me with a birthday cake that I accidentally dropped.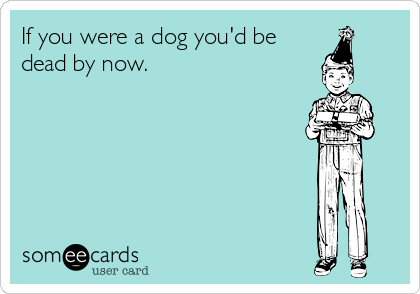 For 19, I was pretty happy. I had many friends attending my birthday lunch and movie (at the mall). I had breakfast with my grandmother and grandfather (we were in good terms after a long time of arguing). My grandfather died exactly a week later. My birthday was the last one he was alive for.
For 18, I had a big lunch at the mall. There were about 20 friends plus the guy who had broken my heart a few months before and decided to crash my birthday lunch. We had lunch, went to see a movie, came back to my house where I had a big family party waiting (I was allowed to bring two of my best friends), as well as a laptop as a present and a birthday cake that was a book and which had my face on one said and sad something like "18 years ago I looked at you for the first time. You were my first love". Thanks mom. Both ironically and not so ironically. After dinner, I was allowed to go out and party for the first time, with both my best friends. I invited the heart breaker (stupid, stupid, stupid) and he decided it was a good idea to make out with a girl right next to me, at the club. Oh, you bastard. I hope you are a better person now.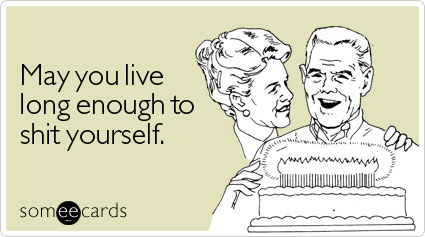 For 26. Only God know. Let's wait and see what October 23rd has in store for me.
When is your birthday? Do you like celebrating it?